The complete list of official James Bond films, made by EON Productions. Beginning with Sean Connery, and going through George Lazenby, Roger Moore, Timothy Dalton, Pierce Brosnan and Daniel Craig. Have you ever wondered how many James Bond movies there are? The new film, Spectre, will be released October 2015.
Movies Review
:
Top Antonio Banderas Movies
,
Top Robin Williams Comedy Movies List
|
2015 New Disney Movies Reviews
|
Best Summer Movies 2015
#1
Dr. No
, 1962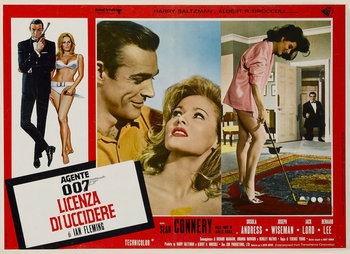 Synopsis:
Dr. No was the first 007 film produced by EON Productions. Bond is sent to Jamaica to investigate the death of MI6 agent
John Strangways
. He finds his way to
Crab Key
island, where the mysterious
Dr. No
awaits.
#2
From Russia With Love
, 1963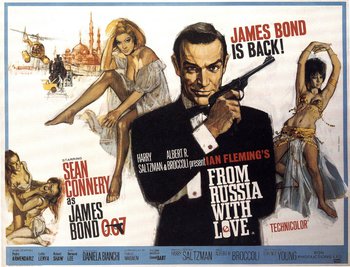 Synopsis:
When MI6 gets a chance to get their hands on a Lektor decoder, Bond is sent to Turkey to seduce the beautiful Tatiana, and bring back the machine. With the help of
Kerim Bey
, Bond escapes on the Orient Express, but might not make it off alive.
#3
Goldfinger
, 1964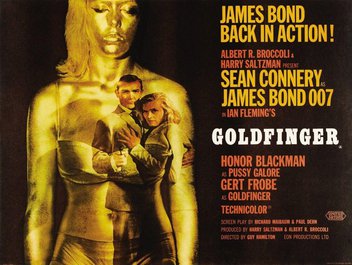 Synopsis:
The Bank of England has detected an unauthorized leakage of gold from the country, and Bond is sent to investigate. The suspect is one
Auric Goldfinger
, the richest man in the country. Bond catches Goldfinger cheating at cards, with the assistance of Jill Masterson, who is killed and painted gold in revenge. Bond must foil his plots, while avoiding the deadly Korean,
Oddjob
.
#4
Thunderball
, 1965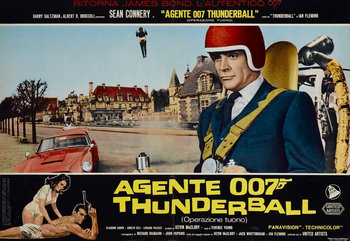 Synopsis:
Emilio Largo
, the Number 2 at SPECTRE, has stolen two nuclear warheads. He threatens to destroy a city in the United States and England unless a large ransom is paid. Bond is sent to the Bahamas to investigate.
#5
You Only Live Twice
, 1967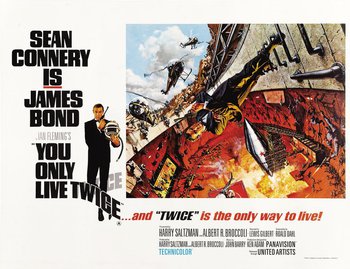 James Bond:Bond Girl:Director:Running Time:
Synopsis:
Ernst Stavro Blofeld is hijacking American and Russian space shuttles, in an attempt to start a war between the two nations. Bond is sent to Japan to investigate, with the help of Tiger Tanaka, the head of station in Tokyo. Armed with over 100 trained ninjas, Bond infiltrates Blofeld's volcano lair.
#6
On Her Majesty's Secret Service
, 1969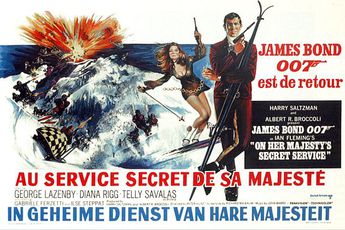 James Bond:Bond Girl:Director:Running Time:
George Lazenby
Tracy Di Vicenzo
Peter Hunt
140 Minutes
Synopsis:
Bond rescues the suicidal Tracy Di Vicenzo, and is brought at gunpoint to meet her father,
Marc-Ange Draco
, the head of one of the largest criminal organization in Europe. Draco strikes a deal with Bond, agreeing to reveal the location of Blofeld, if Bond will look after his daughter.
#7
Diamonds Are Forever
, 1971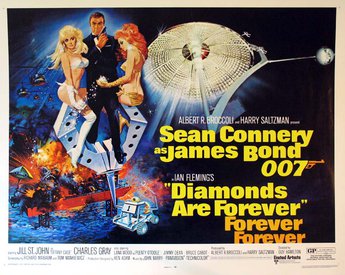 Synopsis:
Sean Connery is back for a fast paced hunt through a diamond smuggling pipeline. MI6 arrests small time smuggler Peter Franks, and Bond takes his place, meeting courier Tiffany Case. He follow the trail of the diamonds, as everyone who touches them gets killed. The end of the pipeline is Blofeld, with another plan for World Domination.
#8
Live and Let Die
, 1973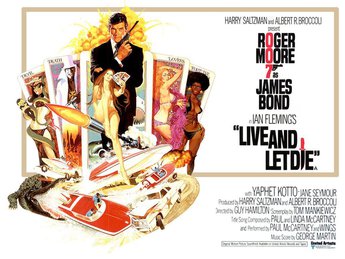 James Bond:Bond Girl:Director:Running Time:
Synopsis:
Several British agents are killed in a short period of time, during routine surveillance of dictator Dr. Kananga. Bond is sent to New York to investigate, and falls into a trap of gangster Mr. Big, thanks to his psychic tarot card reader, Solitaire.
#9
The Man with the Golden Gun
, 1974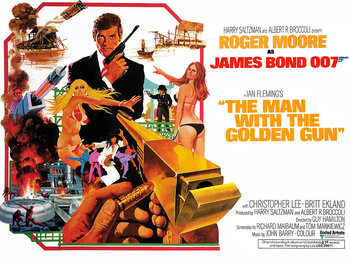 James Bond:Bond Girl:Director:Running Time:
Synopsis:
MI6 is sent a golden bullet with 007 engraved onto it. M fears that Bond will be assassinated by Francesco Scaramanga, the $1 million a shot hitman, known for his golden gun, and sends Bond to find him first.
#10
The Spy Who Loved Me
, 1977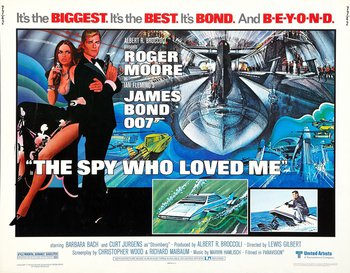 James Bond:Bond Girl:Director:Running Time:
Roger Moore
Anya Amasova (XXX)
Lewis Gilbert
125 Minutes
Synopsis:
British and Russian submarines have been hijacked, and the two countries come together, sending 007 and Russian Agent Anya Amasova to track down a stolen microfilm and investigate. The tension rises as Amasova discovers that Bond had killed her lover in the course of duty. Bond needs to get Amasova on his side as a life insurance policy against her threat to kill him when their mission is over.#11
Moonraker
, 1979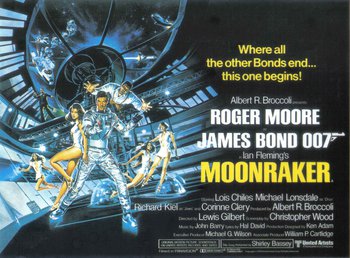 James Bond:Bond Girl:Director:Running Time:
Roger Moore
Holly Goodhead
Lewis Gilbert
126 Minutes
Synopsis:
A space shuttle, on loan to MI6 by Hugo Drax, is hijacked in mid-air. Bond is sent to investigate Drax, on the pretence of an official apology. Bond discovers that Drax hijacked the shuttle himself, and stumbles upon a secret lab with fatal poisons. Drax plans to create a space colony and commit a global genocide, to regenerate a perfect species.#12
For Your Eyes Only
, 1981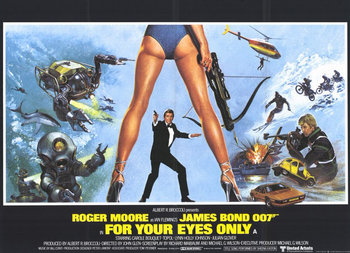 James Bond:Bond Girl:Director:Running Time:
Roger Moore
Melina Havelock
John Glen
127 Minutes
Synopsis:
A ship containing an Automatic Targeting Attack Communicator (ATAC), which can control ballistic missile attacks, is sunk. Bond is sent to retrieve the ATAC before the Russians do. MI6 had sent archaeologist Timothy Havelock to discretely locate the ship, but he and his wife were murdered in front of their daughter Melina. Bond tracks down their killer, Hector Gonzales, and must complete his work before Melina takes her revenge.#13
Octopussy
, 1983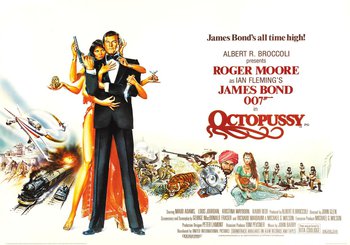 James Bond:Bond Girl:Director:Running Time:
Synopsis:
Agent 009 is stabbed and crashes through a window of the British Embassy in Berlin, holding a forged Fabergé egg. Bond is sent to investigate, and begins at the Southerby's auction for the real Fabergé counterpart. 007 is lead to India, finding corrupt Prince Kamal Khan and his beautiful associate Octopussy.
See also: List of Unofficial James Bond Movies
The complete list of unofficial James Bond films, lesser known than the 23 official films made by EON Productions. Includes multiple adaptions of Casino Royale, and a remake of Thunderball titled Never Say Never Again.
#14
A View To A Kill
, 1985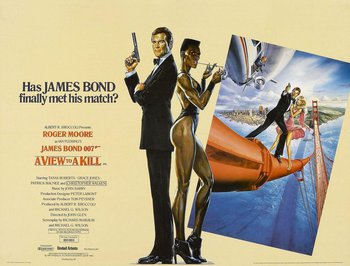 James Bond:Bond Girl:Director:Running Time:
Roger Moore
Stacey Sutton
John Glen
131 Minutes
Synopsis:
Bond investigates a drugged horse racing scandal, and is led to Max Zorin, an eccentric industrialist who plans to destroy Silicon Valley, so that he can create a monopoly on microchip technologies. The chase leads Bond to the Eiffel Tower, and a Blimp ride that eclipses in a tense climax atop the Golden Gate Bridge.#15
The Living Daylights
, 1987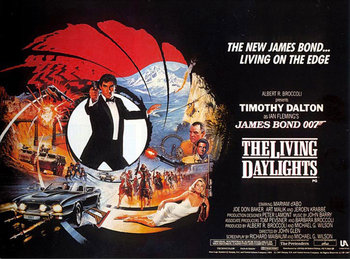 James Bond:Bond Girl:Director:Running Time:
Timothy Dalton
Kara Milovy
John Glen
130 Minutes
Synopsis:
Bond is assigned to protect Georgi Koskov, an ex-KGB officer who is defecting to the British. Koskov is to escape during the intermission at the Bratislava concert hall, and must be protected from a KGB sniper. Bond sets up across the street, but decides against assassinating the sniper, when he realizes she is an amateur women.#16
Licence to Kill
, 1989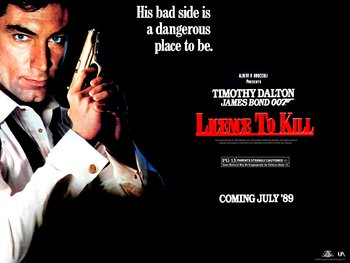 James Bond:Bond Girl:Director:Running Time:
Timothy Dalton
Pam Bouvier
John Glen
133 Minutes
Synopsis:
Bond and Felix Leiter catch drug lord Franz Sanchez during a raid in Miami, but Sanchez escapes after bribing DEA agent Ed killifer. Sanchez kills and rapes Leiter's wife, and Leiter is fed to a shark, losing a leg. Bond must infiltrate and destroy Sanchez's operation, and avenge the death of Leiter's wife.
Source:
http://www.007james.com/articles/list_of_james_bond_movies.php
So we all love movies here right? We all love seeing our collection sit there, available to us at any time for our viewing pleasure. Pulling out the sleeve, handling the disc, and going through the various packaging included with our favorite DVD (or Blu-Ray). But what about keeping a backup or ripping our DVDs to play on our portable media players?
The best program I can recommend for handling (James Bond) DVD disc is
Pavtube DVDAid
(available for Windows and Mac users). It takes everything from the DVD, including the chapters, extras, and subtitles. With decent decrypting capability (removing CSS Copy-protections and DVD region codes including the lastest DVD discs), high quality video output and considerate backup solution and specific format templates for versatile PMP devices (iPad, iPhone, Apple TV, Xbox, PS3, Android tablets and phones, etc), Pavtube James Bond DVD Ripper ranks top on the DVD ripping, conversion and backup application list. Read the
review
.
Simply select the profile to rip James Bond DVD to play on your devices with optimized settings and never worry about the video incompatibility!
You're done! Now you may got known how to backup, copy and rip your DVD dics when you wanna keep your DVD discs from scratching, or manage their movies in a more convenient way, or enjoying them anywhere and anytime you want.
Read More: